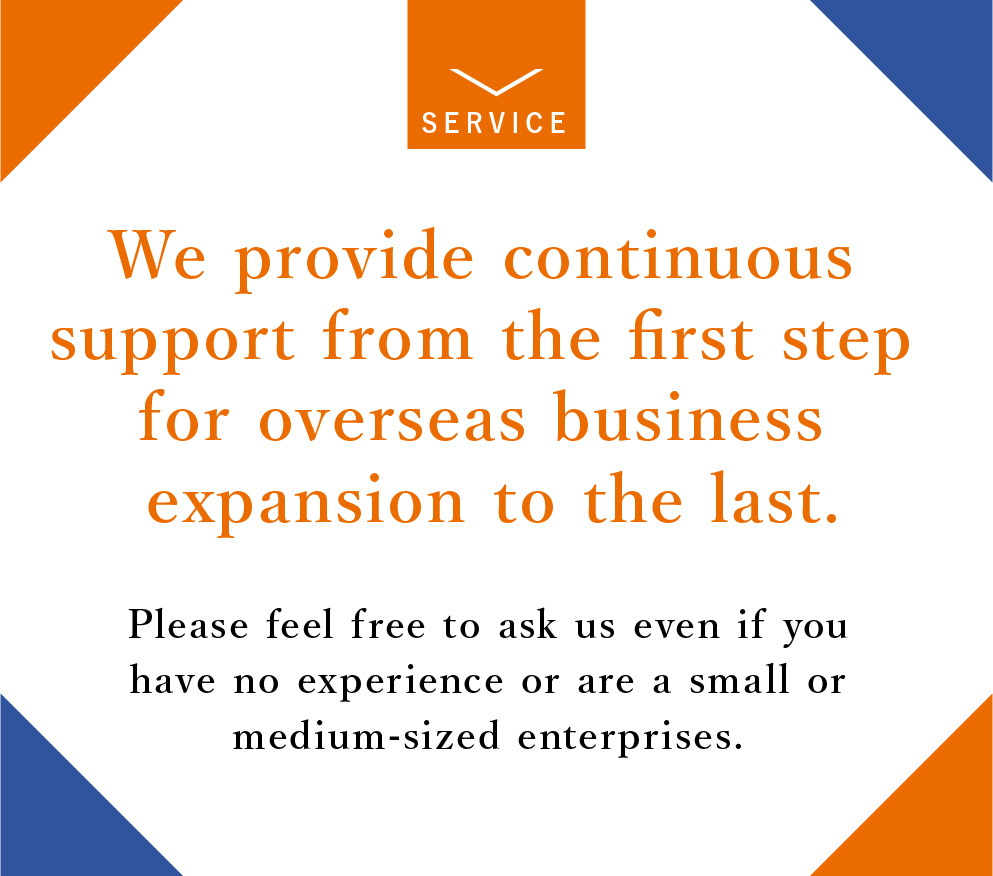 We provide one-stop service
not only in logistics but also sales channels.
There are several processes for selling your products overseas. In many cases, people ask logistics companies or trading companies to start that kind of business.

However, it would be costly to ask individually because such companies are inflexible and don't work together. This complication and high costs lead overseas business expansion to fail in quite a few cases.

Tradinate Co., Ltd. provides one-stop service from export planning, logistics, developing market channels through follow-up by working with you. And we also provide individual service on request. Characteristics of our services are a courteous service that trading companies and logistics companies can't provide individually.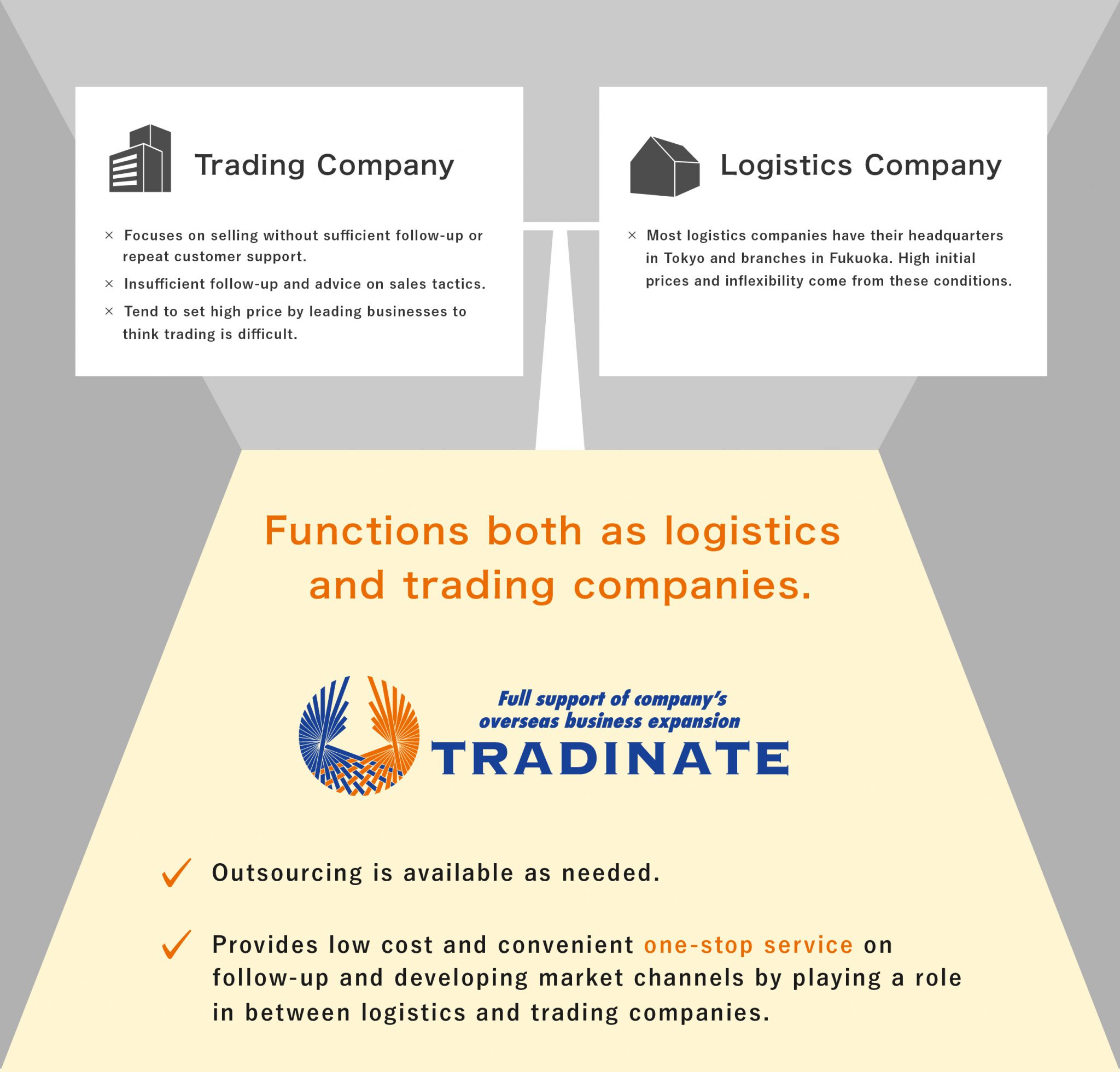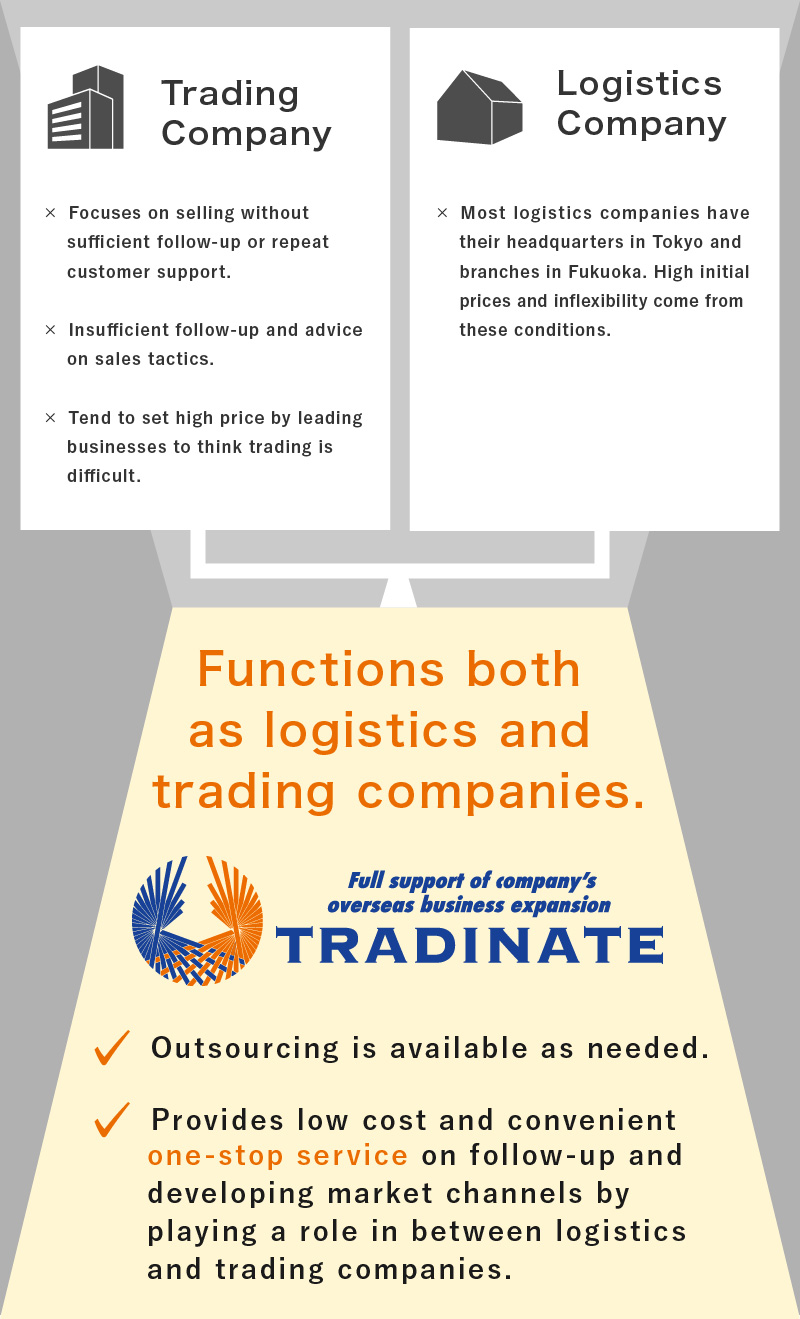 We realize low costs
& cost saving.
 The bottleneck of export is distribution costs. Many companies have given up on their overseas expansion because of that. Tradinate Co., Ltd. solves this problem as well. We realize substantial lower distribution costs than those of major companies based on the trust of shipping companies and airline companies which has been built by 10 years of trading partnership.

We are a Japanese firm, so we have a large network of all sorts of domestic business and partner companies, which makes it possible to reduce the costs for securing sales channels.

In some cases, you realize cost saving by re-examining your plan of Import/Export or overseas expansion. We support your cost saving request as well.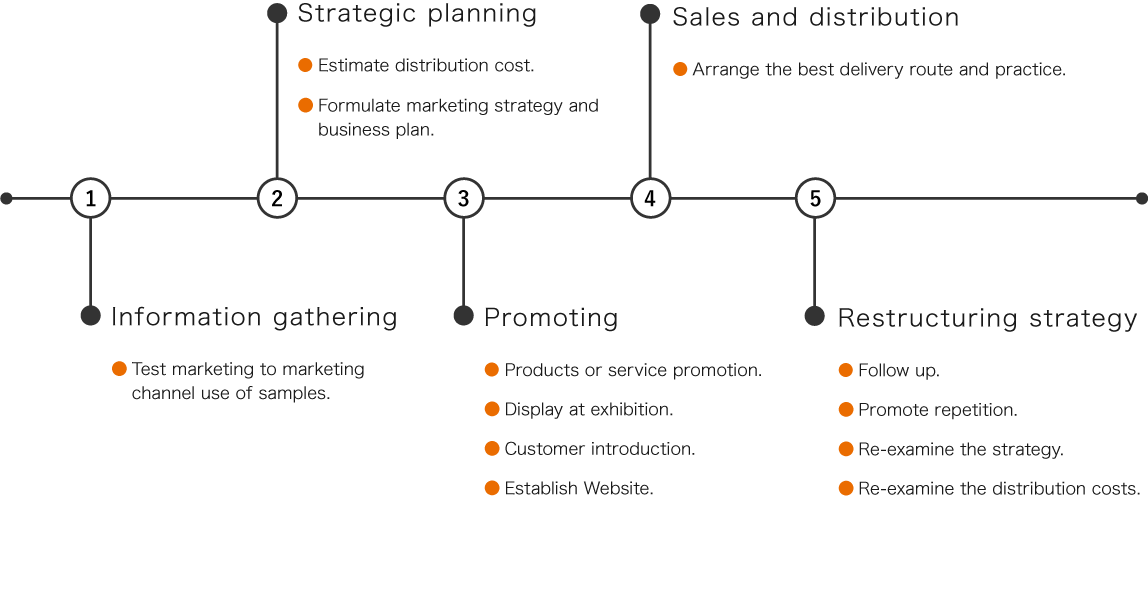 Tradinate Co., Ltd. would like to be a consulting counter to support customers who try to develop overseas business. We promise to provide the best support to satisfy customers who are trying to develop overseas business for the first time and, of course, to customers who have attempted before and are ready to try again.

We will listen to your requests and then make a basic plan of sales promotion and market channel development in order to provide the best support.




Major support

Research on market and products.
Test marketing by product samples.
Calculation of distribution costs.(Proposed cost saving)
Planning and giving advice on sales and business strategy.

 We propose and conduct distributions by choosing the best shipping methods and routes. Moreover, we carry out customs clearance procedures.

Major support

Arrangement of shipping and air delivery. (ex: to a designated warehouse)
Agent service for export documents such as Invoice and Packing lists.
Agent service for following procedures of the Washington Convention.
Agent service for following procedures of the Pharmaceutical Affairs Law. (Import/Export cosmetics)
Liquor export support.

 Tradinate Co., Ltd. gives you thorough support from developing sales channels on the spot to promotion and follow-up. We also give you varied support such as arrangement for exhibitions, customer introduction, after sale follow-up and re-examination or reconstruction of strategy.




Major support

Promotion planning.
Support for branding.
Agent service and ride-along service for exhibitions.
Introducing customers such as import agencies or distributers on the spot.
Ride-along service for business negotiations.
Translation & Interpretation.(Documents, Mail)
Producing package design, web sites and tools for sales promotion corresponding to the area.